Laura Johnson in rehearsal... ...with actress Yuh Jung Youn and composer/performer Paul Salerni at the Great Mountains Music Festival in Korea.

...for Le nozze di Figaro.

...with Temple University Opera colleagues: conductor John Douglas and choreographer Joellen Meglin.

...conferring with conductor Jung-Ho Pak.

La clemenza di Tito
"Laura Johnson's staging came across
fresh and inviting."
Charles Velte, The Press-Citizen,
Iowa City IA
The Life and Love of Joe Coogan
"(A) wonderful, bizarre melding of the silly with the sublime…deftly directed
by Laura Johnson"
Steven Siegel, The Morning Call, Allentown, PA




L'enfant et les sortilèges & Le rossignol
"Laura Johnson's imaginative direction of the work made it come to life and drew the audience into Ravel's magical world…Her setting of Stravinsky's exotic
Le rossignol
demonstrated a completely different yet equally effective skill at bringing an
audience into this new world. Seeing this show a second time brought even more detail in this Chinese fantasy to light, and made clear her ability to allow the singers to fully express their characters. This was a virtually ideal double bill, two masterpieces given a memorable treatment."
Tom Di Nardo, Arts Writer, Philadelphia Daily News

Tony Caruso's Final Broadcast
"I loved the production. I am all praise for (director Laura Johnson's) work.
Laura's production (is) our signature staging."
Dana Gioia, Librettist, Tony Caruso's Final Broadcast




"Temple Opera Theater wins national competition…"
"A first-place award from the National Opera Association in its annual Opera Production Competition has thrust Temple Opera Theater into the national spotlight… The Level 1 Award -- the highest of five categories of competition -- was presented at the NOA's annual convention earlier this year in New York. Temple Opera Theater won for its production of Pietro Mascagni's L'amico Fritz…directed by guest artist Laura Johnson."
Temple Times, Philadelphia PA



"'Barber of Seville' at Zoellner simply superb"
"The performance was a celebration of the joy that music can bring even in the worst of times, but it was also a celebration… especially, for director Laura Johnson… Rossini's opera was done with professional style and ease, yet played for smiles and laughter.
"… the finales to both acts with everyone onstage were marvelous to see and hear, with Rossini's bubbles popping faster and faster…with a considerable assist from Johnson's staging.
After a day that will never be forgotten, it was a night to remember."
The Morning Call, Allentown PA
"Overseeing the fast-paced performance is the talented…Laura Johnson as director, (doing) as professional a job here as in such previous productions as 'The Marriage of Figaro.'"
The Express-Times, Easton PA
"Play delightfully melds Italian passions of food and love"
"Better comedies give us more than just laughs, and 'Saturday, Sunday, Monday' by Italian playwright and actor Eduardo De Filippo is one of them. Kudos go to Laura Johnson for bringing this delightful play to the local stage. It's a tribute…that the dialogue-laden scenes…do not bog down and that the passionate exchanges that erupt do not appear as mannered Italian clichés but true, in-the-moment emoting."
The Morning Call, Allentown PA


"'Pirates' offers a joyous tale of high C's"
"When almost every aspect of a complicated musical production works smoothly and harmoniously, as Lehigh University's presentation of 'Pirates of Penzance' did…the result is professionally satisfying and a pure delight for the audience. Under the skillful coordination of …Laura Johnson who directed…this all-student version…is splendidly paced... This can only be called theater of a high order."
The Express-Times, Easton PA
"Bravo to the cast, orchestra members, and faculty directors of
The Pirates of Penzance
. Friday's performance was magical."
Provost, Lehigh University
"Lehigh University, opera a most perfect marriage"
"At the risk of sounding hyperbolic, this reviewer must say at the outset that Lehigh University's production of Mozart's 'The Marriage of Figaro' Friday evening was simply splendid, a superlative, virtually flawless production that easily ranked with those performed by major companies and that fully deserved its standing ovation…
Most of the credit for this beautifully planned production is owed to the remarkable team of…Paul Salerni…who conducted, and Laura Johnson, who directed. Their careful efforts resulted in a selection of soloists from a variety of countries and regions, well-rehearsed ensembles, orchestra and chorus, and an impressive overall thematic and staging authenticity that was a pleasure to watch."
The Express-Times, Easton PA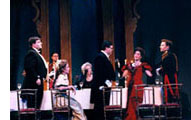 "'A Little Night Music' is a hit"
"The direction of Laura Johnson result(ed) in well-paced dialogue and song…this is a worthy, completely enjoyable production."
The Express-Times, Easton PA
"…director makes Figaro's marriage fun"
(This) production of (Beaumarchais' play) …is a consistently
entertaining show and rewards an audience with both laughs and good staging. The most distinguished feature of the production (is) its direction by the talented Laura Johnson…Johnson warrants particular commendation for her directorial efforts… She has clearly worked on the cast's comic timing and delivery."
The Express-Times, Easton PA
"'Antigone' a needed revival"
"Directed by Laura Johnson, the…production captures all the grace and seriousness that Sophocles' script demands. Perhaps my favorite part of the evening was the chorus. By selecting five performers with such varying vocal ranges, director Johnson has produced an eerie-sounding chorus that, when they speak in unison, sounds almost computer generated. The effect is dazzling…"
The Globe-Times, Bethlehem PA
"Celebrating composer Earl Kim's 70th birthday"
"Carmen Pelton was also featured in
Footfalls
, the Beckett work in which reality is never approached. She paced slowly, her footfalls sometimes matched in the meter of the offstage piano and harpsichord. Her name, her place, her plight were not quite clear, but the fears and dangers of the unknowable came through the singing and playing."
Daniel Webster, The Philadelphia Inquirer
"
Footfalls
," …was the most unusual and captivating of the evening. Disjointed and eerie, it featured…a sepulchral woman pacing the stage and the (off-stage) voice inside her head whom she pleads with and queries. The direction… was precise… the entire performance was original, extremely well presented and directed from start to finish."
The Globe-Times, Bethlehem PA
College presents a strong 'Godot'
"…Northampton Community College's brave presentation of (Samuel Beckett's
Waiting for Godot
) is cause for special notice. The production is...a strong, mature one, with Laura Johnson's direction especially well done…Johnson's careful control of the material is superb…Johnson's direction, which emphasizes Beckett's silences as much as his language, is sensitive to the fine line between the tragic and the absurd. Most credit, to be sure, must go to Johnson, who has directed plays –including other Beckett works –at Lehigh, Harvard, the Williamstown Theater Festival, and in Cincinnati. This is her eighth NCC production, with Buechner's
Woyzeck
two years ago particularly excellent."
The Express-Times, Easton PA
"Surviving in stages: Serious theater fits into a small town"
"The (latest) production…was 'The Suicide,' Nikolai Erdman's comedy about life in the Soviet Union in the 1920's. The large-cast farce, with its demands for split-second timing suited a group of performers who have worked together in many productions. The actors seemed comfortable in one another's company, and their ease relaxed the audience into accepting and laughing at a social satire set in a largely unfamiliar society…"
Douglas J Keating, The Philadelphia Inquirer
"Opera troupe's comedy captivating"
"Introducing her newly renamed Pittsburgh Opera Theater last evening, Mildred Miller Posvar said 'We're the Avis in Pittsburgh. We're No. 2 and we try harder.' The occasion was a captivating benefit performance…with two tiny comic gems (
There and Back
and
The Telephone
)... the whole company was impressive…for its ensemble spirit."
The Pittsburgh Post-Gazette
'Student Actors Strong in CCM 'Don Giovanni'"
"One good way to make a convincing case for opera in English…is to perform it with clear diction and worthy acting. That's just what the students of the College-Conservatory of Music accomplish in their …production of Mozart's 'Don Giovanni'… the production has energy, but does not rush through Mozart's wondrous score…the performers work admirably well as singing actors. Director Laura Johnson has coordinated this cast well, getting a nice balance and interaction among the players. The action is lively,
the movement feels natural and uncluttered."
Ray Cooklis, The Cincinnati Enquirer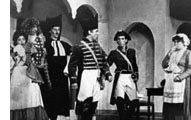 "Opera company distinguished in 'Barber of Seville' production"
"The Whitewater Opera Company has crowned itself with glory with its latest production, Gioacchino Rossini's 'The Barber of Seville…' the familiar story was amusingly acted, imaginatively staged, attractively costumed, and, best of all, magnificently sung. This is arguably the most distinguished production in the company's 12-year history. Laura Johnson deserves high praise for the staging of the comic action. There were countless little bits of 'business' between characters,
all of which worked. I have never seen a Whitewater Opera audience so engaged."
The Palladium-Item, Richmond, Indiana