Biography
Laura Johnson freelances as a director and teacher of theatre and opera. Her work embraces classical and contemporary repertoire in traditional and non-traditional productions which have earned awards and received critical acclaim. Her versatility has allowed her to direct in a variety of venues from professional companies to conservatory training programs, as well as liberal arts programs in colleges and universities across the US. Her work has taken her to Italy, Korea, and Canada. She recently directed the world premieres of works by Earl Kim and Paul Salerni, including
The Life and Love of Joe Coogan
, Salerni's comic opera based on an episode of TV's The Dick Van Dyke Show written by Carl Reiner.
Ms. Johnson has staged productions at Harvard, Lehigh, Boston and Temple Universities, Lafayette College, the University of Iowa, and the University of Cincinnati. Her work has been enjoyed by audiences at the Bloomsburg Theater Ensemble, the Williamstown Theatre Festival, Opera in the Ozarks, and the Lenox Arts Center/Music Theatre Performance Group. She has worked with the Lyric Opera of Chicago, the Opera Company of Boston, the Manhattan School of Music, Theater for the New City, Pittsburgh Opera, the Buckingham Opera in New York City, Pittsburgh Opera Theater and the Pennsylvania Opera Theatre. Her production of
L'amico Fritz
for Temple Opera Theater in Philadelphia won the National Opera Association's top award for Best Opera Production in 2004. She directed the East Coast premiere of
Tony Caruso's Final Broadcast
, an opera by the composer/librettist team of Paul Salerni and Dana Gioia. Mr. Gioia called the production "…our signature staging." She was subsequently invited to work as a consultant on the recording, released on the Naxos label in 2010.
The first director to stage composer Earl Kim's music/theatre pieces (based on texts by Beckett and other poets), Ms. Johnson worked closely with the composer on the world premiere of
Narratives
featuring Irene Worth. She directed
Eh Joe
at the Williamstown Theatre Festival, and the premiere of
Footfalls
for Cincinnati's College-Conservatory of Music.
Footfalls
won the Award for Outstanding Achievement at the First Midwest Chamber Opera Festival, whose adjudicators included Boris Goldovsky and Henry Butler. In 2008 she was invited to direct the Korean premiere of Kim's music/theatre work with Sejong Soloists at the Great Mountains Music Festival.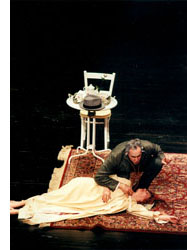 Ms. Johnson's association with opera mentors Italo Tajo and Lorenzo Malfatti began at the Opera Barga Festival in Tuscany when she was hired to assist Maestro Tajo there while still in her teens. Less than ten years later she had the privilege of joining them on the faculty of the University of Cincinnati as a visiting artist teaching acting, directing, and overseeing opera workshops at the undergraduate and graduate levels. In 1997 she collaborated with Maestro Malfatti to create an evening of lyric theatre based on Rossini's
I peccati di vecchiezza
which she staged at the historic Teatro del Giglio in Lucca, Italy as part of the Opera Theatre of Lucca Festival. She returned to Italy in 1999-2000 as one of three faculty members that led the first "Lehigh in Italia" semester abroad program, based in Vicenza. In 2002 she returned to Lucca as part of the faculty of the Opera Lucca Festival under the aegis of the University of Cincinnati.
Ms. Johnson looks forward to further opportunities to collaborate with creative and performing artists of the theatre and the lyric stage.